Point72 Doubles Office Space in Singapore's OUE Bayfront; Affirms Committment to Hiring Region's Top Talent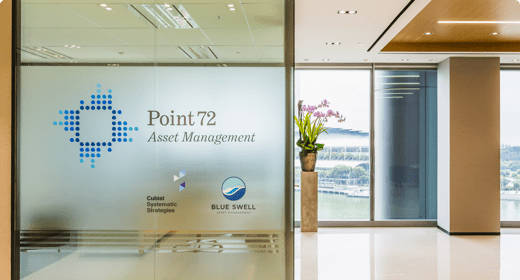 SINGAPORE — (November 15, 2016) – Point72 Asset Management moved into a new office space in Singapore's OUE Bayfront in Marina Bay on Monday. The 8,880 square foot space can seat up to 60 employees, doubling the capacity of the Firm's previous Singapore office.
Marc Desmidt, Chief Executive Officer of Point72's international business, said, "We are making a push to find, attract, and retain the industry's brightest talent around the world, and we see Singapore as an important source of that talent."
Point72 opened its current Singapore office in 2009 with six employees. Today, it has 27 employees in Singapore, including nine who joined in 2016.  The Firm has been in Asia since establishing its Hong Kong office in 2006.
Chris Coward, Head of Risk for Point72's international business and the Head of the Singapore office said, "We are excited to be able to move into a space that can accommodate our growth in the region. We are committed to grow our presence in Singapore starting with the high-caliber talent we know are here."
The layout and design of the new office will facilitate collaboration among employees in the Singapore office and between other offices at the Firm, with conference rooms, upgraded video conferencing capabilities, informal team gathering spaces, an open pantry and seating area, and a wellness room.
"We care deeply about the health and wellbeing of our employees, and that starts with ensuring they have the best-in-class equipment and facilities they need to do their jobs every day," added Desmidt. "A strong culture begins with a premier workplace."
Point72 has more than 1,000 employees worldwide including more than 140 people in the Asia-Pacific region.
About Point72 Asset Management:
Point72 Asset Management is a family office managing the assets of its founder, Steven A. Cohen, and eligible employees. Point72 primarily invests in discretionary long/short equities and makes significant quantitative and macro investments. The Firm's long/short investment divisions are Point72 Asset Management and EverPoint Asset Management. Cubist Systematic Strategies is its quantitative business. The Firm is headquartered in Stamford, Connecticut, and maintains offices in New York, London, Hong Kong, Tokyo, and Singapore. Point72 Asset Management, L.P. is a family office and does not seek, solicit or accept any external investments. www.Point72.com
Media Contact:
Molly Binenfeld (Media)
T: +852-3656-8897
M: +852-9683-7811