Cycling Fundraiser for Veterans Gains Momentum with Point72 Support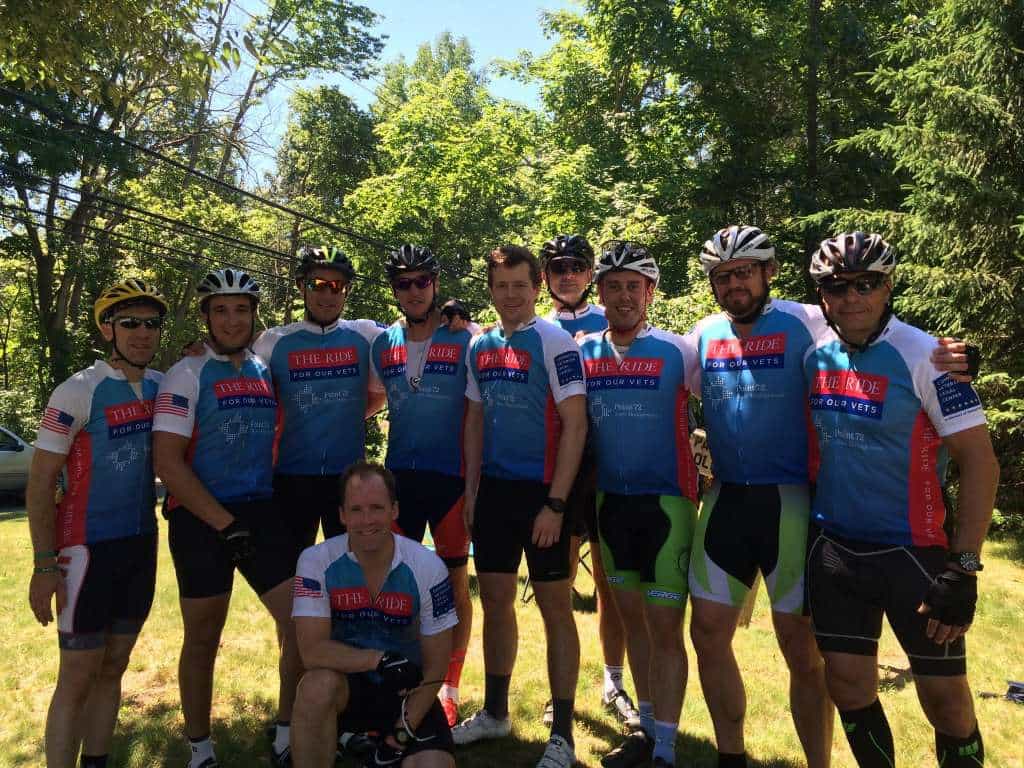 Stamford Advocate
June 13, 2017
STAMFORD — Point72 Asset Management employees have no doubts about seeing major returns on their venture planned for this weekend.
But this investment has nothing to do with stocks or bonds. The family office that manages the fortune of hedge fund billionaire Steven Cohen is the lead sponsor and host site of the Ride for Our Vets, a cycling fundraiser Saturday for the nonprofit Connecticut Veterans Legal Center.
"Supporting veterans is a huge cause for us, and coming together to help CVLC and the great work that they do is the main draw," said Melanie Turchyn, vice president of Point72's Community Matters group, which supports employees' philanthropic endeavors. "Our employees step up, and by offering our location for hosting the event, it alleviates the pressure to coordinate logistics."
The event supports a significant portion of the budget of the West Haven-based CVLC, which helps veterans recovering from homelessness and mental illness overcome legal barriers related to housing, health care and income.
"Point 72's involvement is way more than typical corporate sponsorship; this event wouldn't exist without them," said CVLC Executive Director Margaret Middleton. "They don't just cut us a check. They're personally involved in the details of how the event comes together."
Point72, whose staff includes about 20 veterans, has been lead sponsor for the race for four straight years. It raised more than half the 2016 fundraising total of about $215,000. Collecting more than $200,000 also represents the goal for this year's race.
"These are folks who've risked their lives to protect our freedom," said Point72 managing director Mike Towey. "There are too many soldiers returning home and struggling with homelessness and legal issues. That's something that I don't think is talked about enough. CVLC is this incredibly important voice, and this is the least we can do to help them."
Steven Cohen will not ride Saturday, but he and his wife, Alexandra Cohen, have supported causes for veterans. He founded the nonprofit Cohen Veterans Network and their Steven and Alexandra Cohen Foundation also focuses much of its work on the military community. Cohen's son served in the Marines and now serves in the Reserves.
Point72's involvement has spurred growing participation. When the firm became a lead sponsor in 2014, only about 35 people rode the approximately 70-mile route from Stamford to Essex, where event founder Len Miller resides. About 100 rode last year, and organizers aim to sign up 125 this year.
For the second straight year, the ride will start and finish at Point72's campus at 72 Cummings Point Road, in the city's Waterside section.
Cyclists can choose from 25-mile, 50-mile and 100 mile-routes that extend throughout Fairfield County and parts of Westchester County, N.Y. Point72 will also host a family 5-kilometer walk in its neighborhood.
"We climb a lot of hills and then come down through sweeping valleys," said Towey, who rode the 100-mile route last year and will do so again on Saturday. "It's a stunning ride in its beauty, but it's also pretty challenging."
Twenty to 30 Point72 employees are set to ride, while a number of others will volunteer Saturday. Towey expects many more to join them on future rides.
"We want to supersize this — there's no reason we can't get up to 200 riders, then 400, then 800," Towey said. "We want to keep growing the event and raising awareness about veteran's issues and the work CVLC does."